DIY Alarm Monitor
July/Wednesday/2019 08:58 AM
We are happy to announce our first major Mac program,
DIYAlarmMonitor
. Just as the name suggests it is a software interface to monitor your home alarm system. The basic project consists of three parts, an Arduino,
DIYAlarmMonitor
and an unused Alarm System.

For the Arduino we also proved the PDE program which is written to be easy to read by the programming novice. When a zone is active it sends a code to the computer, it also sends a random number to confirm communications and it monitors temperature.

DIYAlarmMonitor
was written to be used to support a personal website, meaning it creates files that you could easily read using PHP. It also supports relay controls to activate lights or siren.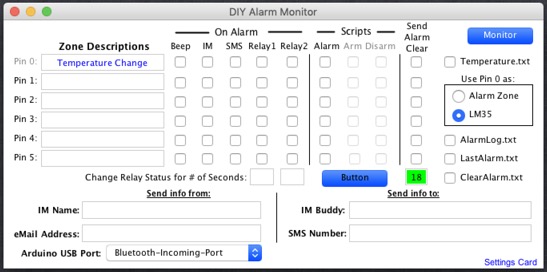 This is an on going project, so please contact us for feature requests or bugs.

We are also considering developing an interface, or shield for the Arduino that would be a matter of plug-in play.

Thanks

Little Software Barn Development Team